Plan the Perfect Bachelorette Party in Cabo
Cabo San Lucas Mexico is one of the best destinations to plan the perfect bachelorette party.  The bride-to-be and her bridesmaids will enjoy the sunny warm weather, stunning beaches, delicious Mexican cuisine, exciting nightlife and fun water activities in the beautiful blue Sea of Cortés.
If your bride loves the ocean, charter your very own private boat.  Enjoy sailing, snorkeling and sightseeing on your own schedule.
Cabo Sails offers an upscale service, and our crew is bilingual, knowledgeable, and very accommodating! We are Punto Limpio (Clean Point) certified for your safety.
https://cabosails.com/tours/cabo-san-lucas-special-occasions-celebrations/
Bachelorette Party Sightseeing Destinations:
You will enjoy sailing or cruising (your preference) in the Sea of Cortés and Pacific Ocean. Sightseeing is included along the the magnificent Finisterra Rocky Point of Land's End, Lover's Beach, Medano Beach and Los Cabo's most famous landmark, El Arco (Land's End Arch). If you would like to snorkel, we take you to Pelican Rock in the Cabo San Lucas Bay National Marine Park. Snorkeling equipment and life vests are included.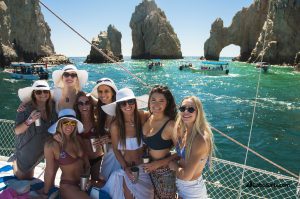 Two paddle boards and a large fun water mat are included with our three largest boats. Choose the 37´Ave Maria catamaran, 35´Sea Amore trimaran or 44´Espiritu Santi sailboat. You may choose from a variety of boats depending on the number of guests in your group. We can accommodate up to 20 guests.
Your private bachelorette party is 3-hours of fun during the day tours at 9 a.m. or 12:30 p.m. or if you prefer an evening celebration, we also offer private 2.5 hour sunset cruises.
Click the link below to choose the boat of your choice and check availability:
Your private bachelorette party includes:
Mexican combination platter with appetizer size beef burritos, cheese quesadillas, Mexican chicken salad dip, fresh guacamole, salsa & chips.
Fresh fruit & vegetable platter.
Premium open bar with Tequila Jose Cuervo Silver, Johnnie Walker Red, Bacardi and Captain Morgan Rum, Absolut Vodka, Pacifico & Corona beer, margaritas, red & white wine, sodas (Coke, Diet Coke, Sprite, Fresca), juices (orange, cranberry, Clamato) and bottled water.
We offer tasty vegetarian options and also accommodate gluten free requests.  If you would like to surprise the bride-to-be, we offer tasty chcolate, vanilla, tres leches and carrot cakes.  Small cakes for 2-7 guests are $25 and large cakes for groups of 8-20 are $45.
Please let us know if you would like us to arrange a professional photographer for your private bachelorette party. The photographer provides 50-70 photographs and is $210 dollars.
Plan the perfect bachelorette party now in sunny Cabo San Lucas Mexico!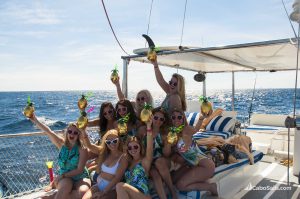 https:/cabosails.com
Toll Free From US & Canada: 1 800 243 4206
Plan the Perfect Bachelorette Party in Cabo